Judging Wealth with Caturtamsa
Page 3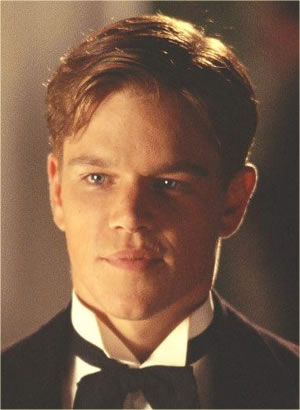 Matt Damon
Now a look at Matt Damon's chart whose career followed a similar yet different track than his friend Ben Affleck. According to Rodden's AstroDatabank:
In 1996, Damon was just another struggling beefcake actor with a few good supporting roles to his credit. But his unknown status changed overnight when director Francis Ford Coppola handpicked Damon to headline his adaptation of John Grisham's best-selling legal potboiler The Rainmaker. The unprepossessing Damon soon found himself engulfed by a flood of A-list scripts, directors and stars. Steven Spielberg snapped him up to star alongside Tom Hanks in World War II actioner [sic] Saving Private Ryan, and Miramax pounced on a script for a film titled Good Will Hunting that Damon and his actor pal Ben Affleck had been shopping around; Damon was cast in the lead role, and the project was propelled onto the fast track when Miramax put critical darling Gus Van Sant in the director's chair and signed box-office heavyweight Robin Williams as Damon's co-star. Damon later parlayed his indie cred [sic] into several franchises, starring in both The Bourne Identity and its sequel, The Bourne Supremacy, as well as Ocean's Eleven and Ocean's Twelve. By 1998 he had a stream of film commitments and a salary that escalated to $5 million a picture.
Analysis
For Matt Damon real success and its accompanying financial rewards started a year earlier than Affleck in 1996. Rahu - Guru started March 12, 1995 and Rahu - Sani on August 4th 1997. Rahu is placed in Kumbha his anandasthana where he is aspected by both Guru and Mars. We should note that while Guru is lord of 3rd and 12th from lagna he is lord of 2nd and 11th from Rahu and with his aspect he also gives the effect of Venus the yoga karaka whom he is conjoined with. Both Venus and Guru also fully aspect Sani the lagna lord which alleviates to a great extent his debilitation in Mesha.
In Navamsa (V9) Rahu is situated in Dhanus which is not a favorable sign for him, in fact Rahu is the only planet who does not do well in Dhanus. Had Rahu been alone this would have been an unfavorable situation but instead we see that Rahu is with Mars lord of V9 lagna, Moon lord of the 4th and especially with Sani lord of 10th and 11th in V9 (who has exchanged signs with Guru who is in the 11th), hence now Rahu will be a channel for these planets as he will reflect their energy. And, we also see that Guru in V9 is very favorably situated in Kumbha (Varaha Mihira equates Guru in Kumbha to be the same as in Kataka) as 9th lord in the 11th. So the Navamsa chart also is favorable.
In Dasamsa (V10) Mahadasa lord is in Mesha the 4th while the critical bhukti lords Guru and Sani are in their own signs. Sani is better placed than Guru in regards to position from lagna and Rahu but Guru is still strong as he is aspected by Moon as it was in Guru bhukti that real fame started and only got better in the following bhukti. But how does it pan out financially in regards to fortune? A person may be very famous or have great responsibilities in his career and be happy with his career etc but not have much financial reward.
In Caturtamsa (V4) Rahu is ucha in the 2nd house with Mars lord of lagna, while the Bhukti lords Guru (lord of 9th in V4) and Sani (lord of 10th and 11th in V4) are respectively in lagna and 10th, with Guru also aspecting his own sign the 9th house. This is a very strong indicator for great increase of bhagya considering that Rasi and V9 are also strong and it was during this time that his fortunes increased astronomically. Considering the planetary situation in his chart we can safely conclude that he will be a continuing success through the rest of the Rahu mahadasha and the subsequent major periods of Guru and Sani.
While we do offer services on this site it is primarily educational. Any money that we make from our services go toward continued study and publishing of well-researched articles that set a high standard in the jyotish community. As a brahmana my primary vocation is to study and share my knowledge with others. In traditional Vedic culture the general public and especially those who benefit directly from that knowledge help to support the teacher so that he can spend more time in deep study and continue the cycle. If your knowledge has been expanded and you are inspired by the Lord in your heart please donate an amount that you are comfortable giving.
Page 3